Do you manage a physiotherapy clinic and are looking to expand your reach and client base? The right digital marketing approach can help you multiply your appointments & build a larger clientele.
Learn how
Search Engine Optimization (SEO), Google Ads, and Google Business Profile
can benefit your physiotherapy practice and bring in more clients.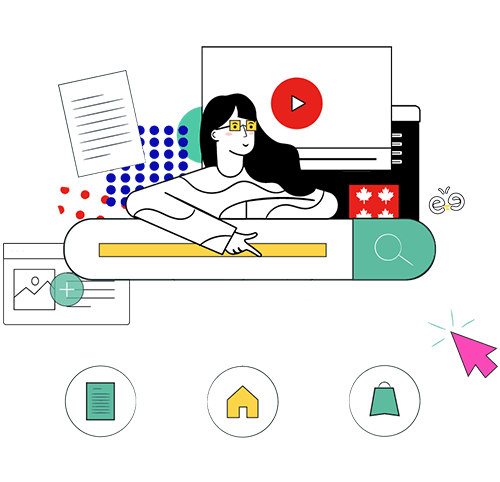 SEO for Improved Rankings and Organic Traffic
Search Engine Optimization (SEO) is the process of optimizing your website to rank higher in search engine results pages (SERPs).
Here's how SEO can benefit your physiotherapy business in Toronto:
Increased Visibility
With effective SEO, your website can rank higher in Google's search results, making it more visible to potential patients when they search for physiotherapy services in Toronto.

Credibility and Trust
High search engine rankings can boost your practice's credibility and trustworthiness in the eyes of potential patients. Many people trust the top search results, assuming they offer the best services.

Organic Traffic
SEO helps drive organic (unpaid) traffic to your website. This means that the people visiting your site are genuinely interested in your services, increasing the likelihood of conversion.
Local SEO
For a physiotherapy practice in Toronto, local SEO is crucial. It helps your business appear in local search results when users look for "physiotherapy near me" or similar queries.
Google Ads for Quality Traffic and Leads
Google AdWords, is a powerful advertising platform that allows you to display your ads at the top of Google's search results.
Here's how Google Ads can benefit your physiotherapy business:

Immediate Visibility
Google Ads provide instant visibility for your practice. Your ads can appear at the top of search results as soon as your campaign is live.
Targeted Advertising
With Google Ads, you can target specific keywords and demographics to ensure your ads are shown to potential patients in Toronto who are actively seeking physiotherapy services.
Cost Control
You have control over your advertising budget, allowing you to set a daily or monthly limit. You only pay when someone clicks on your ad, making it a cost-effective marketing option.

Quality Leads
Google Ads can generate high-quality leads because your ads are displayed to users actively searching for physiotherapy services, increasing the likelihood of conversions.
Google Business Profile for Store Footfalls
Your Google Business Profile plays a vital role in attracting local customers to your physiotherapy clinic.
Here's how Google Ads can benefit your physiotherapy business:

Local Visibility
Your Google Business Profile ensures that your physiotherapy practice appears in Google Maps and local search results when people search for "physiotherapy in Toronto."
Essential Information
You can provide crucial details such as your clinic's address, phone number, website link, hours of operation, and customer reviews, making it easier for potential patients to find and contact you.

Customer Reviews
Positive reviews on your Google Business Profile can build trust and encourage new patients to choose your clinic over competitors
Insights and Analytics
Google Business Profile offers valuable insights into how users find and interact with your listing, helping you refine your marketing strategies.
At WeBeeSocial, we've had the privilege of working with many physiotherapy clinics in Toronto and helping them expand their clientele.
Read this case study to know how we helped a physiotherapy client in Bolton rank on the first page of Google and get consistent organic leads.
Think we'd be a good match for you and your business? Send us a message!